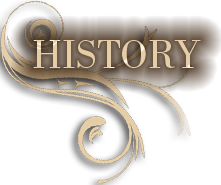 The National Old Pensioners Association Wales (now Active Wales) is the oldest and largest wholly voluntary pensioner's organisation in Wales and was founded in 1939.

We currently have around 200 affiliated Branches with a total membership of over ten thousand/ Affiliation fees are a modest 30p per person per annum to help cover the administration costs.

All individuals and groups of retired persons of people with an interest in the elderly are invited to join the Association in our campaign for pensioners to share in the increasing prosperity of the U.K. and remove the stigma of pension poverty for all time to improve the quality of life for ALL PENSIONERS.

For more information please contact us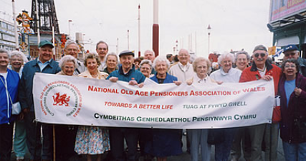 A Short History of NOAPAW

A Winding Road

At the end of the 19th century, in 1809, a young solicitor from North Wales was elected as Liberal Member of Parliament for the Caernarvon Boroughs. He was in practice with his uncle William Lloyd in Criccieth, North Wales. A Welsh Baptist, he grew up with a strong radical outlook. His name was David Lloyd George.

During his early years as MP, he took a leading part in the campaign which eventually led to the passing of the Welsh Churches Disestablishment Act which, amongst other things, gave the Church in Wales a separate identity.

In 1905 he became President of the Board of Trade in the Campbell-Bannerman government. Following the sudden death of Campbell-Bannerman, Asquith became Prime Minister and Lloyd George succeeded him as Chancellor of the Exchequer.

In his first budget in 1908 (his People's Budget) he introduced a Pension Scheme for everyone over 70 years of age, who had to be a British subject and resident in the United Kingdom for not less than twenty years. The pension was set at up to 5 shillings (25p) per week for a single person or 7 shillings and sixpence (37.5p) for a couple and graduated according to means:

Annual Income less than £21........................5 shillings per week
Annual Income up to £23-12-6 .....................4 shillings per week
Annual Income over £31-10-0 ......................No pension

It was known as the Old Age Pension Act 1908. The first pensions were paid in January 1909 out of monies provided by Parliament - £19 million. In the 1909 budget, taxation was increased to cover the cost. One of Lloyd George's contemporaries, as Home Secretary, was Winston Churchill.

There was much hardship in the years that followed, resulting in unrest. In addition to the First Word War, two significant events were the Tonypandy Riots of 1910 and the General Strike of 1926. This lasted six months in South Wales and people returned to work worse off than at the beginning.

By the mid-thirties there were strong pensioner movements in many parts of the country. In 1937 a National Association of Pensioners was formed in the East End of London. A delegation from South Wales attended one of their meetings and returned with recommendation that South Wales should affiliate.The first Pensioners' Parliament was held in the YMCA Hall in London early in 1939 when delegates from the South Wales Valleys and from as far north as Aberdeen attended.

The state pension had by now risen to ten shillings per week and one pound for a couple and most of this went in rent. By this time the pension was funded by a weekly contribution from employer and employee. Insurance stamps were purchased from local Post Offices and affixed to an Employment Card issued by the Department of Pensions and Insurance.

As an illustration of conditions at the time: a farm labourer's wage was £2 per week. If he lived in the farmhouse as many did, a sum of 16 shillings was deducted for board and lodging each week.

In May 1939, a meeting of eleven pensioner associations in the Cynon Valley was held in the Unemployment Centre, High Street, Aberdare. Among the supporting speakers was Mr George Hall MP. Financial support was provided by various organisations including churches and trade unions. This was probably the start of the National Old Age Pensioners Association of Wales.

From 1939 to 1946 activity was almost non-existent except at a local level. The movement in Wales became a more independent organisation, separate from England and Scotland. It even published a monthly newspaper "Pensioner of Wales" for a number of years.

Records indicate that the National Executive met in the YMCA in Cardiff from the mid-forties until the early sixties. Sometime between then and the early eighties meetings switched to Aberdare where the Executive still meets on a regular basis. It is noteworthy that clergymen, especially Non-conformist Ministers, as well as Councillors were very much involved in the early movement.

At one time membership was over 41,000, with branches in almost every community in South Wales including Swansea, Newport and Cardiff.

Annual Conferences have always been big affairs held in a number of venues: Newport, Barry, Aberdare, Abergavenny, Ebbw Vale, Carmarthen, Port Talbot, Swansea, Aberystwyth, Porthcawl. Records mention the possibility of the Brangwyn Hall and Sophia Gardens being considered as venues for the event.

For some years the Annual Conference was held in Porthcawl with an Annual Rally being held separately in Barry. More recently both events were combined with a morning Conference and an afternoon Rally held at Porthcawl. In 2006 the venue was changed to the Princess Royal Theatre in Port Talbot. More recently it has returned to Porthcawl.

WEH